Unique LGBTIQ+ breast screening campaign launches
Breast cancer screening can detect breast cancer early, which can lead to better outcomes for patients and ultimately save many lives.
However, a peer reviewed study reveals that bisexual women and trans patients are less likely to take part in breast screening than cisgender, heterosexual women. The study suggests that "enhanced cancer prevention outreach is needed among gender and sexual minorities."
LGBTIQ+ people may also fear a lack of understanding and possible discrimination from healthcare professionals.    
Best For My Chest is a joint project between Live Through This and NHS North East London Cancer Alliance to address these issues. It aims to improve the LGBTIQ+ community's understanding of breast screening and increase attendance, potentially saving many lives.    
Best For My Chest not only revolutionises communication around breast cancer screening for the LGBTIQ+ community, but it also educates and helps them to alleviate concerns and fears of what to expect at a screening appointment.
What's more, the initiative also features dedicated training for health care professionals so that they can better support the LGBTIQ+ community with their health needs.
Stewart O'Callaghan, founder and CEO of Live Through This, the UK's only LGBTIQ+ cancer charity, explains why education and engagement in the LGBTIQ+ community is so vital:
"Breast Cancer Screening saves lives, but our community can face multiple barriers when trying to access this vital service. These include issues with receiving an invitation, fears about the appointment or feeling disconnected from the usual messaging and campaigns.
"That is why Best For My Chest was created, to let our community know that this service is for them, and they will be treated with respect when they use it. Our campaign features four community champions at its heart, who share their experiences in their own words as they guide our community towards better health."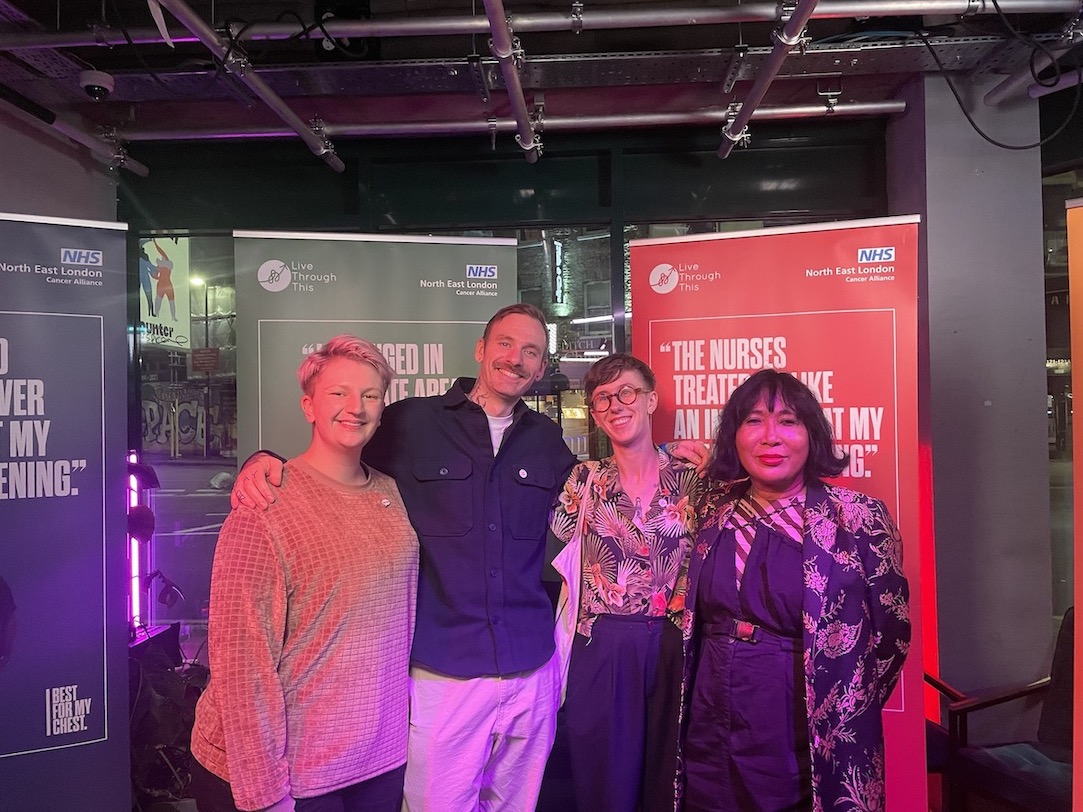 The Best For My Chest campaign launched in a LGBTIQ+ venue in Shoreditch, East London on 6 October 2022, timed to coincide with Breast Cancer Awareness Month. The campaign aims to make Breast Cancer Screening more inclusive for the entire LGBTIQ+ community. The team dedicated twelve months to engaging with healthcare practitioners, and most notably, the LGBTIQ+ community to identify the issues faced by those accessing Breast Cancer Screening.
Jake Chambers, Project Manager for the Best For My Chest campaign from NHS North East London Cancer Alliance, said: "The Best For My Chest campaign is about effecting positive change within the community. It also addresses the very barriers preventing access to healthcare within the NHS, by providing additional training sessions for healthcare professionals, so they feel better equipped to support the needs of our LGBTIQ+ communities. Everyone wants to be treated with dignity and respect and knowing that through this campaign more people will be, is incredibly rewarding."
The eye-catching campaign features people from the LGBTIQ+ community - both in front and behind the camera - bringing it to life and delivering lifesaving messaging. The new website provides hints, tips, educational resources, links to medical services, and plenty of advice designed to speak directly to the community it serves.
Sophie, one of the campaign champions, is a trans woman who has attended her first Breast Cancer Screening and said of her experience: "It wasn't as bad as most people would think. I was able to change in private. I was treated with respect throughout and found the whole process pretty easy.
"To be honest, receiving the appointment and having my screening was quite affirming, so it was a positive experience, and I am not worried about the next one."
Members of the LGBTIQ+ community and their loved ones who are concerned about attending their first Breast Cancer Screening appointment or have any questions, should visit the dedicated website www.bestformychest.com