Best For My Chest Testimonial
"Even if just one person goes to a screening as a result of the campaign, it will be a win. But it's not going to be only one person. It can't be. When a whole community comes together to help, people show up."
Ramses shares his story of getting involved in our ground-breaking campaign, Best For My Chest.
Introducing Best For My Chest
North East London Cancer Alliance, in partnership with leading LGBTIQ+ cancer charity Live Through This, launched Best For My Chest, a campaign which is designed to speak specifically to the LGBTIQ+ community.
It is designed to help the LGBTIQ+ community come forward for life-saving breast screening appointments.
Best For My Chest is the result of twelve months of engaging with the LGBTIQ+ community to identify the issues faced by those accessing Breast Cancer Screening. Local people volunteered to become champions for the campaign, and they have played a central role in designing the key messages, posters and graphics. Read more about the launch of the campaign.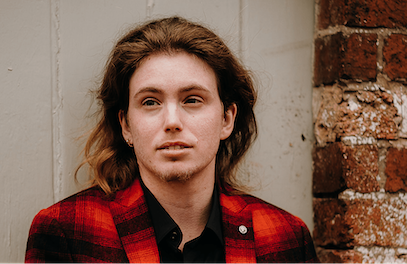 Ramses tells us how he became a volunteer for the campaign
"As someone who has needed breast screenings in the past, and who unfortunately had lots of direct and indirect experience with cancer, as soon as I saw the focus groups advertised, I knew I had to volunteer.
I didn't really know what to expect, and having medical trauma I was afraid the topic would be triggering for me, or that my concerns as a trans person would be dismissed.
Needless to say, that's the opposite of what happened.
Since the very first session, it was immediately clear how much our feedback and input was valued.
From our personal experiences navigating healthcare, to deciding the use of colours, the sessions immediately felt like a safe space.
I felt like I was contributing to something that would be life-changing to many people, and looking back now that the campaign has been launched, I can confidently say I was.
We discussed what kind of information we would need before a screening, what would make us feel safe, confident, empowered - all things I had unfortunately never felt at any medical appointment."
Ramses shares his thoughts on the effectiveness of the campaign
"As a trans person, I felt heard in ways I had never felt heard before, in healthcare settings.
And it was incredible to hear and compare my experiences with many people while working on something that would make the process of getting screened less daunting, easier, more accessible.
Looking at the website and the posters now, it's so easy to recall all the conversations we had, and the incredible work behind every decision: what stories to tell, what experiences to describe, who would be the "face" of the campaign. And the colours, the font, the layout.
It felt surreal to see the end result, because it was the perfect and obvious consequence of months of incredibly insightful and helpful conversations.
I have rarely seen people who look like me in ads, and never in healthcare. I have never seen a mention of pronouns outside of gender identity clinics. I have never been reassured I could take someone with me to appointments.
And these are all obstacles that, unfortunately, have often led me to skip or postpone doctor appointments, either consciously or unconsciously.
I genuinely think this campaign is going to change that.
People from my community will feel seen, heard, and represented, and that's how change starts. There's something powerful in seeing someone who looks like you reassure you you're going to be fine, and explain to you what's going to happen at your appointment.
I always said that even if just one person goes to a screening as a result of the campaign, it will be a win, but it's not going to be only one person. It can't be. When a whole community comes together to help, people show up."