Changes to Urgent Suspected Cancer (2 Week Wait) referral forms
We can now confirm that the new forms have now gone live as of Tuesday 31 January 2023.
The new referral forms have been uploaded to the IT system that you use by your ICB commissioned IT service provider(s), your IT Leads or by DXS. If you encounter problems using the forms, please contact your borough's Cancer / IT lead or your IT service desk in the first instance. The forms can also be accessed through the Transformation Partners in Health and Care website.
The Frequently Asked Questions webpage includes information addressing common queries regarding the forms, including ways to avoid common technical problems.
Even though the forms have been extensively tested, if you come across issues in terms of the content of the forms please do contact the TCST team directly using the address at the end of this email.
It is important that only the new, updated USC referral forms are used after 31 January 2023. Please could you ensure that any old forms or templates are removed from your IT system and are no longer used for patient referrals.
The new USC referral forms have been redesigned and the fields to be completed reordered - the main changes are shown in this document.  Each form includes a link to bespoke clinical guidance to aid your referral decision. Patient information leaflets are also available in English and a range of community languages to support patients who have been referred to hospital with a suspected cancer
We would like to express our gratitude to Alliance, clinical and GP colleagues for their feedback and comments, in particular our GP IT Champions who have put in their time and effort to test these forms over the last few month
If you have any questions or concerns, please email england.tcstlondon@nhs.net.
What has changed?
The main points to note about changes to the 2 Week Wait referral forms are:
 
Significant redesign of all 14 Urgent Suspected Cancer referral forms
 
Less cluttered design more focus on clinical sections
 
New sections to record history, physical examination findings and reason why patient may have cancer
 
Expanded patient information resources
 
Clearer directions to alternative management and referral options if patient does not meet the defined USC referral criteria
 
'Top tips' boxes on the breast and lower GI forms
 
Updated clinical guides
 
Forms currently undergoing final testing
 
New forms due to launch in Jan 2023
 
Signed off by the Pan-London Clinical Executive
Example of new Lower GI form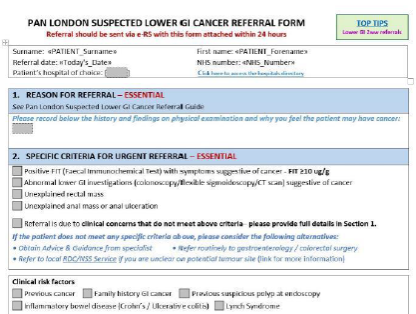 The forms have been redesigned and the fields to be completed re-ordered. The new forms will be accompanied by updated clinical guides and patient information resources, which can be accessed on the Transforming Cancer Services Team (TCST) website via links provided in the forms. Patient information leaflets will be available in many community languages and easy read versions.
There will be no changes to how clinicians should save or submit the forms.
As before, the new forms will be available on EMIS, SystmOne, Vision and Microsoft Word. If your practice does not receive an automatic update, you will be contacted about how the changes will be implemented at your site.
The changes have been endorsed and signed off by the pan-London Clinical Executive Group, which comprises senior clinical leadership representing all ICBs in London.
Who to contact
If you have any questions or concerns, please email England.TCSTLondon@nhs.net.